Delta Dental–Queen Creek, AZ
Learn More About the Benefits of Delta Dental
Your oral health relies on regular dental care. However, dentistry can be expensive. You don't have to worry about a large bill if you pay monthly premiums for your dental insurance. By choosing a Delta Dental dentist in Queen Creek, you'll benefit from discounted rates for the services you need to keep your teeth and gums healthy. At Queen Creek Complete Dental, we strive to keep a healthy smile within everyone's budget. We will help you make the most of your monthly investment to ensure your smile lasts for a lifetime.
Delta Dental Coverage Availability & Fees
Delta Dental is a provider of comprehensive insurance plans for families and individuals. Your premiums give you access to a nationwide network of dental professionals. You benefit from reduced out-of-pocket expenses to keep your oral health a priority. Every policy differs, but most include:
100% coverage for preventive services.
80% coverage for minor restorative services.
50% coverage for major restorative services.
You can visit your dentist every 6 months for a cleaning and checkup after a co-payment. You'll stop preventable issues from harming your oral health. As a result, you're less likely to need costly procedures down the road. Research has found that every $1 spent on prevention can save up to $50 on emergency services.
However, even with the best prevention, issues can still occur, like cavities, gum disease, and toothaches. No matter the problem, Delta Dental is there for you. After meeting your annual deductible, your yearly allowance will cover a portion of the expense of common restorative procedures. You'll avoid a large bill by utilizing your coverage.
Delta Dental recommends choosing a dentist in their network to benefit from more coverage at the time of services. In-network dentists have pre-negotiated rates with Delta Dental for select services to keep dentistry affordable. You can still visit an out-of-pocket dentist and use your coverage, but you'll have to pay the difference between the dentist's fees and your insurance's allowable amount. Our office proudly accepts both in-network and out-of-network patients.
At the end of the year, your dental benefits reset. You aren't reimbursed for anything you don't use and nothing will carry over into the upcoming year. Less than 3% of Americans meet or exceed their annual limits, which means you could throw hundreds to thousands of dollars down the drain every year.
We will help you use what you've paid for to achieve your best smile for minimal expense.
Meet Emily–Front Office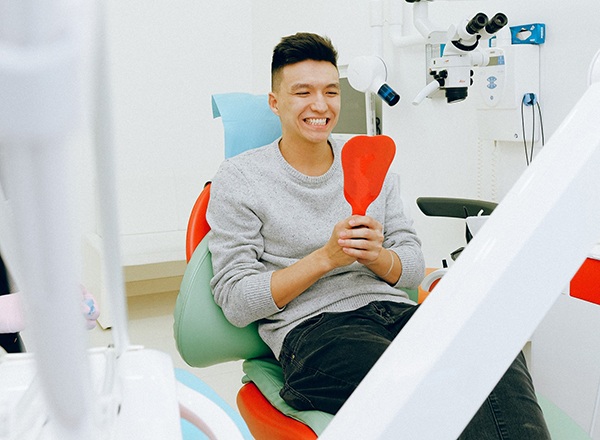 You don't have to navigate your dental insurance in Queen Creek alone. Emily works in our front office and is the friendly voice you hear over the phone. She communicates closely with our patients to keep dentistry affordable.
She will work on your behalf with Delta Dental to maximize your annual coverage. She will explain how your benefits are being used and if there is a remaining balance. If there's any out-of-pocket expenses, Emily will discuss your payment options to keep a healthy smile within your budget. Request an appointment through our website or call (480) 531-7495.