Meet Our Queen Creek Dental Team
Our team's number one goal is to ensure you feel completely relaxed and taken care of from check-in to check-out. Most have been a part of our dental office for over 10 years, so they have the skills to make every part of your appointment as easy as possible, from scheduling to treatment to discussing your payment options. They all love working here and serving the East Valley community, and we're sure you'll feel this starting at your first appointment. Read on below to learn more about our fantastic team!
Kelsie H. - Office Manager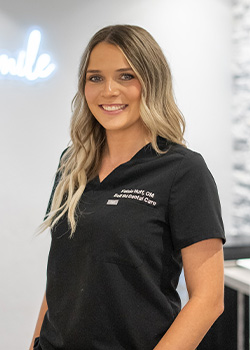 Kelsie has been an important member of our team for more than three years now, and she continues to love working with Dr. Jafari and the rest of the staff every day! Originally from Rapid City, SD, she completed her education at the American Institute of Dental Assisting. As a result, she is a certified dental assistant as well.
Away from the office, you'll most likely find Kelsie spending time with her husband, Taylor, and their adorable miniature Australian Shepherd. She also enjoys traveling, going to the ocean, and visiting the Disney Parks. Here's something you may not know about her: she's obsessed with the TV show Survivor.
Emily - Front Office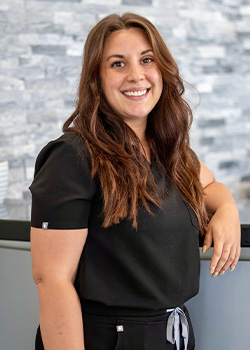 Emily will probably be the friendly voice you hear on the phone and the first smile that greets you when you walk into our office. She loves seeing the beautiful confidence boost our patients get after they invest in themselves and their smiles. In addition to helping you get scheduled, she's also the person to talk to if you have any questions about your dental insurance. Before joining us, she was a medic in the Army National Guard for eight years.
Emily moved to Queen Creek from Indianapolis in 2022, and she has a wiener dog and cat waiting for her at home. She likes doing anything that involves being outside, so you'll often find her hiking or walking her dog.
Amy D. – Certified Dental Assistant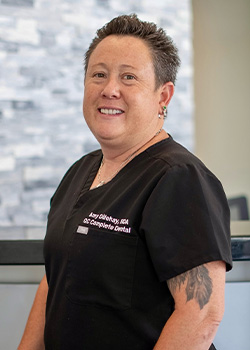 Amy's career in the dental field spans nearly 30 years, with over half of them spent right here at our dental office. She earned her education at both Phoenix Community College and Glendale Community College. She is trained with Invisalign, CEREC, and SOLEA technology too. Today, she considers working with Dr. Jafari and the rest of the amazing team members as a dream come true! She loves helping patients feel genuinely comfortable and at ease about coming to the dentist's office while also being able to reassure them that they won't experience any pain. She goes above and beyond to bring out the best in everyone! She also has a special gift for making others laugh, which definitely comes in handy in the treatment chair.
Originally from Nashville, TN, Amy is married with two beautiful children named Keegan and Kayla. Her family currently lives in San Tan Valley. When she isn't busy caring for others, her favorite hobbies include spending lots of time in the great outdoors, doing activities like kayaking, fishing, and camping.
Carolina P. – Registered Dental Hygienist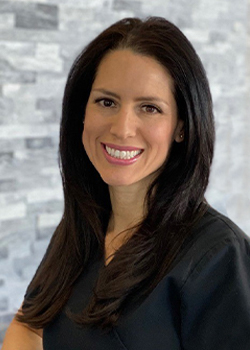 Carolina has been working in the dental field for nearly two full decades now. She completed five semesters of dental school in Medellin, Colombia but decided to shift gears upon coming back to the United States; today, she couldn't be happier as one of our dental hygienists! She loves helping patients achieve better health, educating them about the link between oral and overall wellbeing, and helping everyone feel genuinely comfortable in the treatment chair.
Jerry G. - Registered Dental Hygienist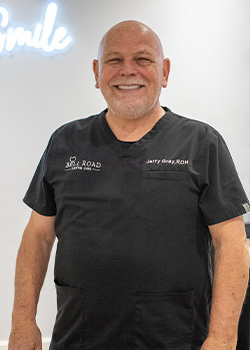 Jerry is originally from North Carolina! As a result, he studied at Wayne Community College and North Carolina State University. Today, he is certified in local dental anesthesia and periodontal dental hygiene, and he's a certified mental health coach. He has well over two decades of experience in the world of dentistry, and the last 10 have been spent right here with our team.
In his free time, you'll most likely find Jerry spending time with his family, including his wife, their three sons, their two daughters-in-law, their grandson, and their little dog, Maggie. He also enjoys rebuilding lamps and clocks and being a premarital/marital coach with his wife. Here's something you may not know about him: he is a US Navy Fleet Marine Dental Tech/Corpsman veteran.