Meet Our Queen Creek Dental Team
Our team's number one goal is to ensure you feel completely relaxed and taken care of from check-in to check-out. Most have been a part of our dental office for over 10 years, so they have the skills to make every part of your appointment as easy as possible, from scheduling to treatment to discussing your payment options. They all love working here and serving the East Valley community, and we're sure you'll feel this starting at your first appointment. Read on below to learn more about our fantastic team!
Corie C. – Registered Dental Hygienist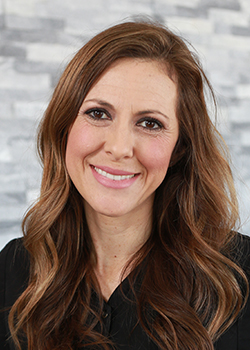 Corie graduated from Northern Arizona University in 2002 with her Bachelor's in Dental Hygiene and passed the Western Regional Exam & Anesthesia Certification. She is also certified in laser dentistry. Today, her career in the oral healthcare spans well over 15 years, and she's been working with Dr. Jafari since 2005. She loves being able to educate her patients about their dental health while also helping them to improve it over time! There is truly nothing better than watching them leave the dental office with cleaner teeth and big smiles on their faces.
Originally from Gilbert, Corie and her amazing husband have three beautiful kids. When she's not busy at work, you can usually find her going to Disney parks, taking Disney cruises, traveling in general, and (of course) spending lots and lots of quality time with her family.
Amy D. – Certified Dental Assistant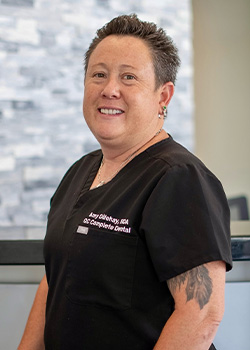 Amy's career in the dental field spans nearly 30 years, with over half of them spent right here at our dental office. She earned her education at both Phoenix Community College and Glendale Community College. She is trained with Invisalign, CEREC, and SOLEA technology too. Today, she considers working with Dr. Jafari and the rest of the amazing team members as a dream come true! She loves helping patients feel genuinely comfortable and at ease about coming to the dentist's office while also being able to reassure them that they won't experience any pain. She goes above and beyond to bring out the best in everyone! She also has a special gift for making others laugh, which definitely comes in handy in the treatment chair.
Originally from Nashville, TN, Amy is married with two beautiful children named Keegan and Kayla. Her family currently lives in San Tan Valley. When she isn't busy caring for others, her favorite hobbies include spending lots of time in the great outdoors, doing activities like kayaking, fishing, and camping.
Beth K. – Front Office Coordinator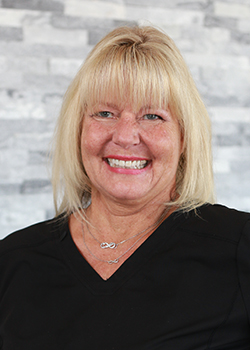 Beth first joined Dr. Jafari's dental office in 2013, and her overall career in oral healthcare covers 35 years! She studied at the University of Nevada, Las Vegas and has been extensively trained in dental administration. She is a current member of the Dentrix Advisory Committee, aiding in updating and implementing dental software systems. Today, her greatest pleasure comes from making the patients smile and ensuring their dental happiness for years to come!
Beth actually grew up in a very dental-friendly environment, as both her father and her uncle worked as dentists. Today, her love for this field is second only to her love for her husband, Larry, and their two children, Jordyn and Christopher. In her spare time, she enjoys gardening, reading books, and swimming. She's also a BIG Harry Potter fan and is always looking to add to her collection of Harry Potter collectibles!
Kelsie H. - Certified Dental Assistant/Front Office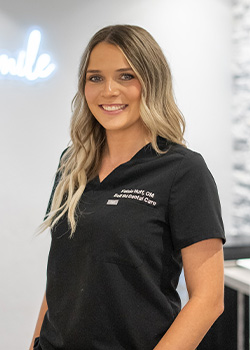 Kelsie is relatively new to the dental world, but she already loves getting to work with Dr. Jafari and the rest of the staff every day! Originally from Rapid City, SD, she completed her education at the American Institute of Dental Assisting.
Kelsie and her husband Taylor just celebrated their very 1st wedding anniversary. In her spare time, she enjoys singing, playing the ukulele, hiking, fishing, practicing archery, hunting, and doing pretty much anything else in the outdoors. She also has a small photography business on the side!
Melinda C. – Certified Dental Assistant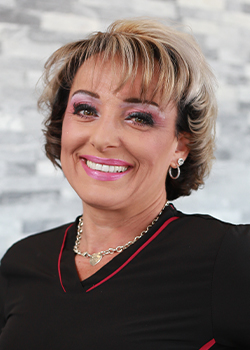 Melinda first joined our dental office in 2008, and her overall career in dentistry spans well over two full decades so far. She studied at DeVry University and Mesa Community College before completing her dental training at The Bryman School of Arizona in Phoenix. Today, she loves simply being able to smile every day with the other amazing staff members and wonderful patients – everyone feels just like family! She also enjoys learning about new technologies that continually improve the way dentistry is done.
Outside of work, Melinda's family is a fun bunch who loves outdoor activities like riding quads and fishing. She is married with a daughter and a son. Her other hobbies include dance fitness, tumbling, sky diving, swimming, camping, and hiking in the forest – she plans to invest in property up north and build a cabin to retire in one day!
Carolina P. – Registered Dental Hygienist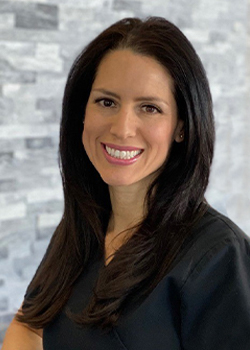 Carolina has been working in the dental field for nearly two full decades now. She completed five semesters of dental school in Medellin, Colombia but decided to shift gears upon coming back to the United States; today, she couldn't be happier as one of our dental hygienists! She loves helping patients achieve better health, educating them about the link between oral and overall wellbeing, and helping everyone feel genuinely comfortable in the treatment chair.