Dentures – Queen Creek, AZ
Make Your Smile Complete with Natural-Looking Restorations
Tooth loss remains a common problem in the United States, despite the continued advancements within the dental field. Unfortunately, missing just one tooth can be detrimental to your oral health. In fact, many basic tasks that we often take for granted become extremely difficult, such as chewing and speaking. It can also take a toll on your self-confidence, making it harder to smile. At Queen Creek Dental Care, we offer both full and partial dentures in Queen Creek designed to leave you feeling not just confident, but happy with your smile. Give us a call and we'll help you get an appointment scheduled!
Why Choose Queen Creek Dental Care for Dentures and Partials?
Implant-Retained Solutions Available In-House
Advanced CT/Cone Beam Scanner Provided
Caring and Knowledgeable Dentists
Why Do I Need to Replace Missing Teeth?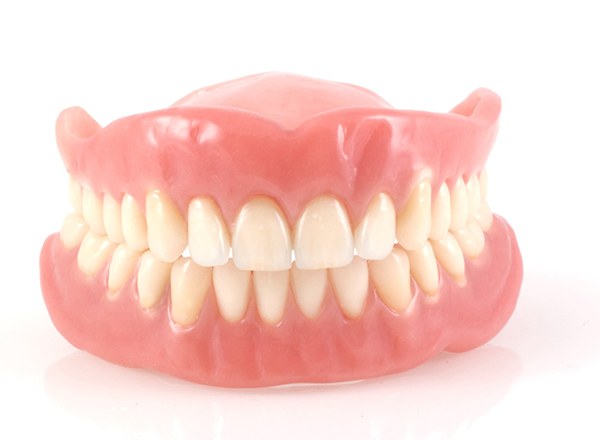 As more teeth are lost, both your oral and overall health take a toll. For example, your jawbone does not get the stimulation it needs in order to make chewing and grinding your food easy. Furthermore, more teeth are likely to fall out as time goes on. This only makes it harder to maintain a good diet. On top of that, your facial appearance will likely begin to change, resulting in you looking older than you may actually be.
Which Treatment Option Should I Choose?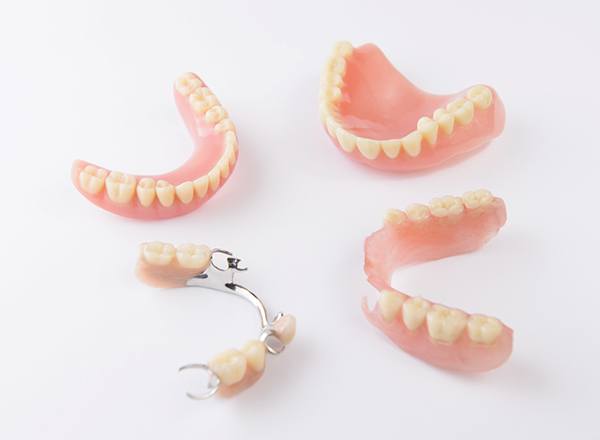 While many people may believe dentures look and feel fake, the options we offer in Queen Creek are made using some of the most advanced dental technology out there. Because of this, your custom prosthetic is sure to both look natural and fit inside your mouth comfortably.
Full Dentures
To replace a full arch, a full denture is utilized. This can be either a top or bottom arch depending on your needs. To stay in place, suction or adhesive is used. Keep in mind that adhesive is only a temporary measure as you get used to wearing your prosthetic. Thanks to their modern design, there should be significantly less slipping and irritation compared to dentures of the past.
Partial Dentures
To replace multiple missing teeth on opposite sides of the mouth, we capture a digital impression of your mouth, then use that impression to create a metal framework for porcelain teeth to fit into. To stay in place, a series of hooks are built into the prosthetic, which then wrap around existing teeth.
Implant-Retained Dentures
Instead of relying solely on the shape of your mouth to hold a prosthetic, our office is happy to provide a solution that uses dental implants. Not only does this prevent your denture from slipping, but the implants regularly stimulate bone tissue!
The Many Worthwhile Benefits of Dentures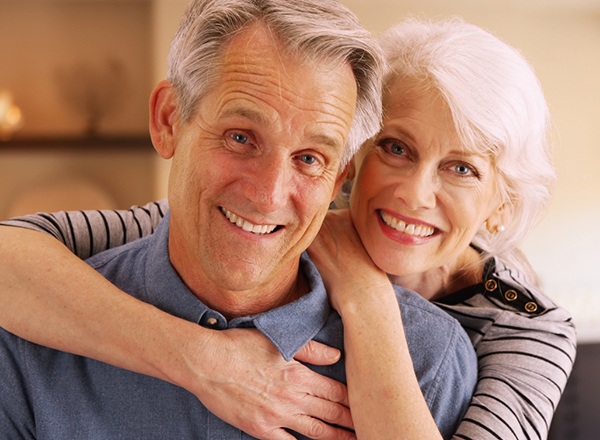 Tooth-Colored Materials: Our dentures are made using acrylic and ceramic materials, so you can rest knowing that once you begin wearing it, it will blend in with ease.
Speak and Eat with Better Comfort: Speaking clearly has never been easier and expanding your diet becomes possible with the help of a custom prosthetic.
Easy Maintenance: When you have full or partial dentures that are removable, you can easily take them out for dedicated cleaning.
Affordability: It's considered to be one of the fastest and more affordable options for severe tooth loss.
Dentures FAQ's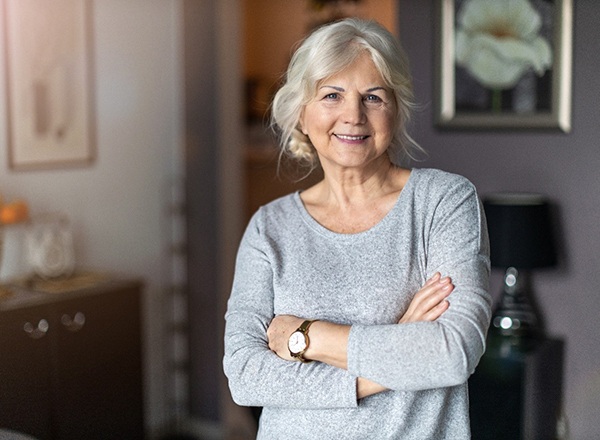 Curious about dentures and partials? We're glad you found us. Please call Queen Creek Complete Dental to discuss any questions or concerns you may have so we can provide you with the specifics. At the same time, we want information about dentures to be as easy to access as possible, which is why we've included the answers to some of the most frequently asked questions. Read on to learn more about dentures and partials!
Are Dentures Right for Me?
The only way to know with certainty whether this treatment option is best for you is to visit our office for a consultation. Dr. Jafari or Dr. Ferreira will carefully examine your mouth, the number of teeth you're missing, and the overall condition of your oral health. From there, they can recommend the best option for you. Usually, if you're missing multiple teeth, dentures will be a great solution. However, no two smiles are the same, which is why an initial consultation is so important.
How Long Do Dentures Last?
It's recommended to replace your dentures every 5 to 7 years. While they may not fully break or wear away, dentures will lose their fit around this time. However, it's vital that you maintain your prosthesis by cleaning it regularly with room temperature water and mild hand soap or denture cleaner. You should also remove your dentures at night to let them soak in water or soaking solution. This frees up plaque and bacteria that tend to stick to the prosthesis. By caring for your denture and your oral health, you can enjoy your new smile for years to come.
I've Heard Dentures Can Slip and Slide. Is There a Way to Fix This?
While partial dentures are held in place with clasps, full dentures rely on suction to stay put. If your denture ever slides when speaking, eating, or smiling, you can use denture adhesive to keep it fixed. However, you can get a more permanent solution with implant-retained dentures. This treatment combines dentures with dental implants to give you the most stable full smile replacement available. With an average of 4 dental implants, we can anchor your denture to your jawbone for a grin that looks, feels, and functions naturally.
How Much Do Dentures Cost?
Every case is different, which is why the cost of your dentures will vary based on factors like insurance coverage, the number of teeth you're missing, and the condition of your overall health. Usually, dental insurance will partially cover your dentures, but we can only be certain if you contact us. Our friendly front desk staff will do all they can to maximize your benefits and minimize out-of-pocket spending. To get a precise estimate, contact our office to schedule a consultation. After carefully examining your smile, we can develop a personalized treatment plan that includes the total price.
If you have any other questions, please don't hesitate to contact our office!