Porcelain Veneers – Queen Creek, AZ
Transform Your Smile in Two Appointments
If you've ever watched TV or a movie, then you've likely seen someone wearing porcelain veneers. They're responsible for many of the glowing smiles you see on the screen, and at Queen Creek Complete Dental, you can receive the same cosmetic treatment in a comfortable, modern atmosphere. Whether you want to change your look subtly or dramatically, veneers can be relied on to deliver beautiful, lasting results. To see if they would be right for you, contact us today to schedule a consultation to discuss porcelain veneers in Queen Creek.
Why Choose Queen Creek Complete Dental for Porcelain Veneers?
Custom-Made Using Strong, Lifelike Materials
Can Fix Multiple Flaws with a Single Procedure
Easily Able to Last for 20+ Years
What Are Porcelain Veneers?
Essentially, porcelain veneers are like little ceramic masks that are fitted to the front of the teeth. They are designed to resemble pristine white enamel, and they are bonded into place using a tooth-colored resin. Each veneer is custom-made for every patient, meaning they can be ideally suited to someone's facial shape, skin tone, and preferences. In the end, they can help you achieve a more confident smile.
What Can Porcelain Veneers Fix?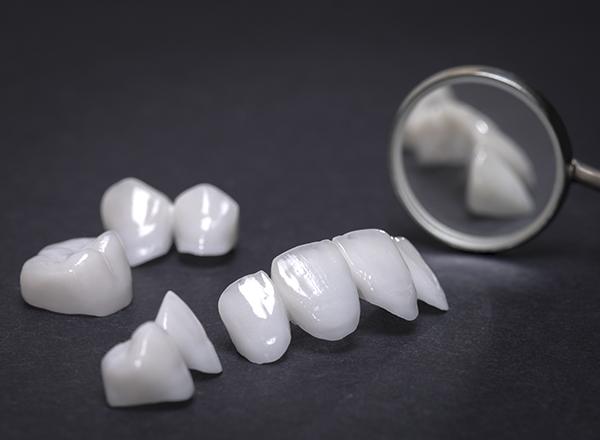 With porcelain veneers, all of the following imperfections can be well-hidden:
Stains that don't respond to bleaching
Large chips
Noticeable cracks
Gaps between the teeth
Misshapen or undersized teeth
Slightly misaligned/rotated teeth
What is the Procedure Like?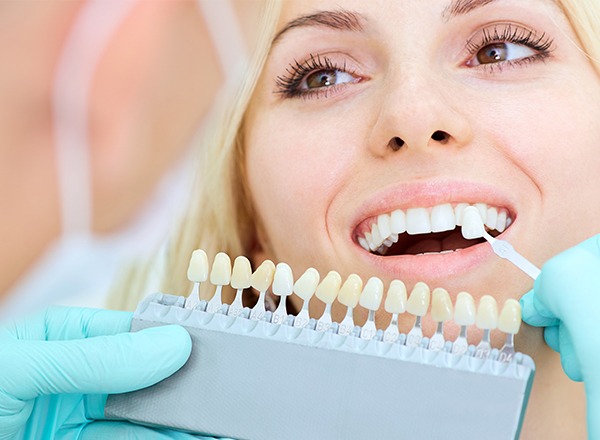 Everything starts with a conversation between a patient and Dr. Jafari. This will give the patient the chance to express what they would like to change about their smile and what they want their final results to look like. If porcelain veneers are the best way to help someone achieve their goals, Dr. Jafari will recommend them, and the treatment will start at a follow-up appointment.
First, a small amount of enamel is removed from the teeth that will hold the veneers—this is so the restorations will lay flat and look natural. Then, Dr. Jafari takes an impression of the teeth, and this is sent to a dental lab to fabricate the veneers based on a patient's specifications. Before a patient leaves this first visit, they'll be fitted with a temporary set of veneers.
About a week or so later, the patient will return to Queen Creek Complete Dental to have their temporaries removed and replaced with their final veneers. After Dr. Jafari makes a few minor adjustments and checks a patient's bite, they're done, and their new smile will be ready for the world.