December 14, 2019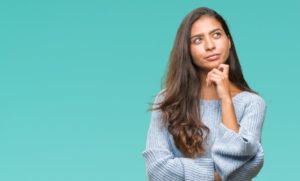 While a dental crown in Gilbert is made to last, it's not indestructible and will eventually need to be replaced. If you don't do this in a timely manner, you could be putting your already damaged tooth at risk, which is why it's important to know when you should visit your dentist to get a replacement restoration. Read on to learn the signs that your dental crown is due to be replaced and how you can prevent dental pain and sensitivity from occurring.
The Lifespan of Dental Crowns
The lifespan of a dental crown relies on a variety of factors, including where it's located in your mouth, what materials it's made from, and your dental hygiene practices. However, on average, patients report that they last between five and 15 years.
Restorations located towards the back of your mouth, that are frequently used to chew food, typically wear down faster because of regular use. Crowns that are made from all-porcelain and ceramic are strong and durable, but many patients report that metal crowns often tend to last the longest, despite not being aesthetically appealing. With the proper dental hygiene routine, regular checkups and cleanings with your dentist in Gilbert, and no bad oral habits like teeth grinding and nail-biting, you can get the most out of a restoration.
Signs That Your Crown Needs to be Replaced
Dental crowns need to be replaced for a variety of reasons. When they're not, your tooth can suffer from intense pain and sensitivity caused by the fragile inner chamber being exposed to harmful oral bacteria. Here are four common signs that your dentist in Gilbert needs to inspect your crown:
You've had your dental crown for about a decade and need it regularly inspected.
Your restoration looks worn down and doesn't look like it's in good condition.
You're experiencing pain or swelling near your tooth.
Your tooth is becoming increasingly more sensitive to hot and cold temperatures.
Your gum line has begun to recede around your tooth.
At the first sight of these symptoms, be sure to contact your emergency dentist immediately to determine whether the issue is urgent. This will prevent you from experiencing additional damage and pain down the road.
Why Do You Need to Replace Your Restoration?
If your dentist informs you that your crown is damaged or no longer protects your vulnerable tooth, it's important to get it replaced. Temporarily fixing or "patching" the problem will only put your natural tooth at risk of needing a root canal and becoming infected. For this reason, it's vital to discuss your options with your dentist and keep your natural smile protected.
If you have any questions or are experiencing out-of-the-ordinary symptoms that indicate you need to have your crown examined, don't hesitate to contact your emergency dentist in Gilbert immediately. With timely and thorough preventive care, you can avoid a stressful invasive procedure in the future.
About the Author
Dr. Sierra Ferreira goes above and beyond to provide her patients with the highest-quality of dental care. She takes the time to listen to each of her patients' concerns and get to understand the issues that they're dealing with. This allows her to provide effective and individualized treatments that ease pain and restores their oral health. For questions or to schedule an urgent visit to get your crown examined, visit Queen Creek Complete Dental's website or call 480-722-1200.
Comments Off

on Does Your Dental Crown Need to be Replaced? Here's How to Tell
No Comments
No comments yet.
RSS feed for comments on this post.
Sorry, the comment form is closed at this time.