June 17, 2020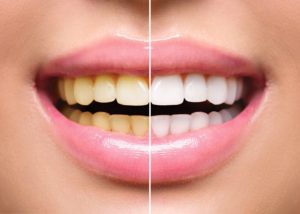 Have you recently glanced in the mirror or taken a picture of yourself only to find that your teeth aren't as white as they used to be? Unfortunately, this natural part of life can take a toll on your self-confidence. However, you don't have to live with tooth discoloration if you don't want to! Read on to find out how your Queen Creek cosmetic dentist can help you regain your brilliant pearly whites.
Dental Discoloration Comes in Several Types
There are three main types of tooth stains. If pigmented particles permeate the top levels of your enamel, they can cause surface (extrinsic) stains. However, if those particles work farther down through the exterior of the tooth, it becomes an inner (intrinsic stain). Over time, a combination of these two types of stains can cause age-related dental discoloration.
Most Common Causes of Tooth Staining
Understanding what causes tooth discoloration can help you avoid it in some cases. This information also plays a key role in determining which method of teeth whitening will be most effective for you. The most common culprits behind stained teeth are:
Dark-colored foods, drinks, and sauces.
Smoking or chewing tobacco.
Poor oral hygiene or lacking dental routines.
Trauma or dental injury.
Certain medical treatments or medications.
Cosmetic Consultation VS Store-Bought Products
There are countless at-home whitening products you can buy at your local grocery store or pharmacy. However, these over-the-counter treatments can often lead to sensitive teeth, gum irritation, and sub-par results. Take the guesswork out of improving your smile and see your Queen Creek cosmetic dentist for a professional consultation instead. Not only are they specially trained to brighten your smile as comfortably and efficiently as possible, but they can help you choose which treatment is right for you as well.
Several Treatments for a Brighter Smile
There are numerous ways your dentist can help you erase dental stains, including:
At-home whitening kits: Unlike store-bought products, an at-home whitening kit from your dentist is custom-made just for you and uses a powerful bleaching gel. This treatment lets you get professional results from the comfort of your own home!
Dental bonding: For spots of discoloration, as well as small chips, cracks, and gaps, your dentist may suggest dental bonding. The stain can easily be quickly and comfortably concealed with a durable, natural-looking composite resin.
Porcelain veneers: If you have particularly stubborn stains that can't be lifted with other whitening treatments, you can correct them with porcelain veneers. These thin shells of beautiful dental porcelain can be permanently adhered to the front of a tooth to replace nearly any cosmetic imperfection with the appearance of a flawless tooth.
Whether you have a noticeable stain or widespread discoloration, there is a cosmetic whitening treatment that's right for you. Talk to your Queen Creek cosmetic dentist today and you'll be enjoying a bright new smile in no time!
About the Author
Dr. Reza Jafari has been helping the families in Queen Creek, AZ achieve the smiles they've always wanted since 2005. He is committed to expanding and honing his dental skills and completes 50 or more credits of continuing education every year. He is proud to offer the most advanced dental techniques and state-of-the-art dental technology, like digital imaging, to ensure his patients receive the smile they've always wanted. If you have stained or discolored teeth, don't hesitate to contact him via his website or at (480) 722-1200.
Comments Off

on What Causes Stained Teeth & What Can I Do About Them?
No Comments
No comments yet.
RSS feed for comments on this post.
Sorry, the comment form is closed at this time.