September 23, 2020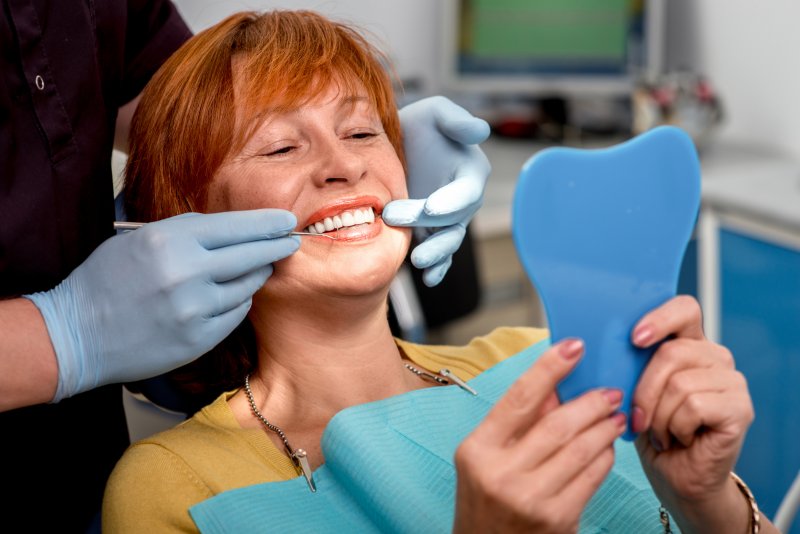 Even though dental implants have all sorts of practical and health benefits, it is important to consider how you are going to look as well. It is understandable that patients may be concerned about how they will look with their replacement teeth. After all, you should feel confident about your appearance, replacement teeth or not. That's why your dentist is sharing the cosmetic benefits of dental implants in Queen Creek so you will know what you can expect aesthetically.
Enhanced Bone Tissue
When you are missing teeth, bone reabsorption will begin to occur because the vacated area is no longer being stimulated by regular chewing. When you get a dental implant as opposed to other tooth replacement options like dentures or bridges, you are maintaining the integrity of the jawbone and preventing future bone loss to occur. This will prevent the appearance of sunken in cheeks and other traits that take away from youth.
Optimal Implant Placement
Your dentist will place your implant in the most ideal place for osseointegration to take place. This will offer you better functionality and increase the chances of a stable implant. Unlike dentures, this prevents slipping and sliding that can be frustrating when trying to eat or speak. In addition to considering the integrity of the jawbone, the placement position must also be in accordance with soft tissue deficiencies. By taking all of these things into consideration, you will be able to have the most aesthetically pleasing restoration.
Customized Replacement Teeth
In order to provide you with a natural looking smile, the replacement teeth that are placed on the end of your implants are custom-made. Your dentist chooses them to be the exact size, shape, and color needed to blend in seamlessly with the rest of your teeth. It takes thoughtful preplanning to ensure that the new tooth will fit properly and be the same length as the adjacent one.
Prosthetic Design
Sometimes when adjacent teeth are being restored, the crowns are designed to reduce the amount of space between the teeth. For instance, no one wants to have that triangle of space between their front teeth as the result of an inadequate papilla. The way that your smile appears is heavily considered during the planning process of your dental implants.
Managing Soft Tissue
When you are getting dental implants, sometimes your dentist may be able to reconstruct gum tissue in order to make for a better appearance. This is an extra step but can lead to more aesthetically pleasing results if you have suffered from gum recession.
If you feel that your missing teeth are taking away from your smile, there is a solution out there for you. Ask your dentist if you'd make a good candidate for dental implants. In addition to improving your oral health, they can give you a smile that you'll be proud to show off.
About the Author
Dr. Reza Jafari is a well experienced dentist who has been serving patients at his practice in Queen Creek, AZ for 15 years. He graduated with Honors from the Boston University School of Dental Medicine and is committed to completing at least 50 credits of continuing education each year. For more information on dental implants or to schedule a consultation with Dr. Jafari, visit his website or call (480) 722-1200.
Comments Off

on Cosmetic Benefits of Dental Implants
No Comments
No comments yet.
RSS feed for comments on this post.
Sorry, the comment form is closed at this time.