March 21, 2021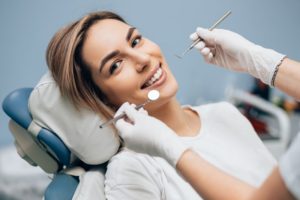 If you're ready to improve the appearance your smile, you're probably considering cosmetic dentistry. It has all the services you need to get the pearly white set of teeth you've always wanted. That said, there is a lot of misinformation out there. That's why your dentist has decided to share the truth behind the 4 most common myths about cosmetic dental care. Read on to learn more!
#1. Cosmetic Dentistry Will Never Improve Oral Health
While it's true that cosmetic dentistry focuses on enhancing the appearance of your smile, many of the treatments also come with some oral health benefits. Replacing and restoring missing teeth can prevent remaining teeth from drifting out of place. Additionally, straighter teeth make it easier to floss and remove lingering plaque. This can decrease your risk of issues like tooth decay and gum disease in the long run.
#2. Store-Bought Teeth Whitening is Just as Effective as Professional Treatment
At-home whitening products that are bought at the store are convenient and affordable. However, they will only remove surface stains, and the results are incredibly temporary. On the other hand, professional whitening from a dentist will remove discoloration beneath the surface of your enamel for amazing results. Your dentist can make your teeth up to 8 shades brighter in a single visit. Plus, it's cost-effective compared to other dental services and long-lasting.
#3. Braces Are the Only Option for Correcting Crooked Teeth
Do you have slightly crooked or misaligned teeth? You may think the only way to achieve a straight smile is with orthodontics. However, veneers are an amazing option that can give you the look you've always wanted. Whether it's one tooth, multiple teeth, or your entire smile, veneers can enhance the size, shape, and position of the teeth by covering the entire front surfaces. The main reason to choose veneers over braces is that they allow you to achieve the straight smile of your dreams in as little as two easy appointments. An additional option is Invisalign, which can help address more severe alignment issues without compromising your appearance.
#4. Dental Bonding is the Best Way to Fix a Chipped Tooth
Dental bonding is an affordable and quick way to repair chipped teeth. That said, not everyone is a good candidate for this treatment. Bonding can only be used for minor chips and small fixes. However, veneers are the best solution for multiple chips, cracks, and damage. Veneers also reshape the teeth, allowing you to choose exactly how your new smile will look.
Don't be fooled by what you hear or see on the internet. To get the information you need about your cosmetic options, your best choice is to schedule a consultation with your dentist.
About the Practice
At Queen Creek Complete Dental, Dr. Reza Jafari and Dr. Sierra Ferreira combine their experience and training to offer a wide range of cosmetic treatment options like teeth whitening, porcelain veneers, dental bonding, and more. To schedule an appointment, they can be reached through their website or by phone at (480) 722-1200.
Comments Off

on 4 Common Myths About Cosmetic Dentistry (and the Truth Behind Them)
No Comments
No comments yet.
RSS feed for comments on this post.
Sorry, the comment form is closed at this time.