April 14, 2021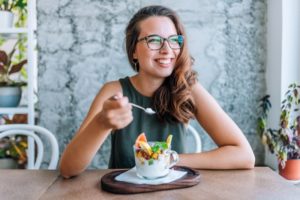 It's the afternoon, and you've already done so much. It's time for a reward: your favorite snack! Plus, you need something to get you from lunch to dinner without starving. You reach for a cupcake, potato chips, candy, or whatever treat you have on hand to take a break from the action and get some satisfaction. But did you know that your daily snacking can hurt your oral health? Whether you have a sweet tooth, you like to graze, or you eat when you're bored, snacking can put your smile at risk. Read on to learn how as well as what you can do instead.
Snacks Are Rarely Healthy
It's no secret that the average pantry is full of chips, crackers, candies, and other sweets. You may know these are bad for your body, but these sugary foods also have a negative impact on your teeth. When sugars interact with the bacteria in your mouth, acids are created that eat away at enamel and gums. This increases your risk of common issues like cavities and gum disease, which is one of the reasons why a bad snacking habit can put your smile in danger.
Frequency Matters
It's not only about what you eat, but also when you eat. When you consume balanced meals three times a day, you're giving your smile a chance to recover in between. What this means is that your mouth produces saliva to wash away plaque, bacteria, and food debris. However, if you're constantly snacking, you aren't letting your mouth clean itself. Instead, you're allowing food debris and harmful plaque to build up, which can eventually cause decay and infection.
Tips for Protecting Your Smile
Thankfully, these risks can be completely avoided if you know the right steps to take:
Diet: Choose fruits and veggies for snacks instead of sugary, processed foods. These are not only good for you, but they act as natural brushes, scrubbing away sticky plaque and food debris.
Water: Drink lots of water throughout the day. This stimulates saliva flow to wash away bacteria, plus most tap water contains fluoride – a cavity-fighting mineral.
Mealtime: Try to only eat during mealtime. However, if you must snack, choose one or two times throughout the day and eat healthy foods.
Oral healthcare: Don't forget to practice a good oral healthcare routine. Brush, floss, and visit your dentist regularly for checkups and cleanings.
Don't let snacking get in the way of your healthy smile. Follow these easy tips and remember the dangers of grazing to keep your pearly whites in great shape!
Meet the Dentists
Dr. Reza Jafari and Dr. Sierra Ferreira combine their experience and training to offer a wide range of amazing dental services for their Queen Creek patients. They provide thorough checkups and cleanings to catch cavities from snacking early on, helping you avoid more costly dental care down the road. For any questions, they can be reached through their website or by phone at (480) 722-1200.
Comments Off

on Snacking: Good for Your Appetite, Bad for Your Teeth
No Comments
No comments yet.
RSS feed for comments on this post.
Sorry, the comment form is closed at this time.