April 4, 2022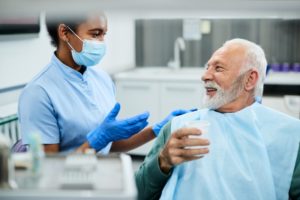 Do you have surgery scheduled this month to get dental implants? This could be life-changing for your smile and your dental health, but preparation is key. After all, when any sort of surgery is involved, you don't want to face any surprises. Try not to be nervous since you can take steps to get ready. Read on as your dentist explains the preparation for dental implant surgery in Queen Creek.
Don't Underestimate the Value of Good Questions
When you go to the dental office for your consultation, this is a great time for you to ask questions about the surgery. Even if some questions you have prepared seem insignificant, you should still ask them. To make decisions regarding your oral health, it is important to be well informed. This may also help you to feel more relaxed when headed to your procedure because you will know what to expect on the day of surgery.
Do as Your Dentist Says During Pre-Op Period
You need to follow any pre-op instructions from your dentist very closely. These are intended to set you up for success when the procedure comes around. If you are undergoing IV sedation, your dentist will ask you to fast beforehand to avoid complications related to anesthesia.
You may be recommended to take certain medications, like antibiotics or pain relievers, ahead of time. It is a good idea to have some post-surgical foods ready for after your procedure. This includes soft items like mashed potatoes, yogurt, pudding, and applesauce.
Prep Your Plan for Surgery Day and Beyond
When you have a plan, you will be able to rest assured when your procedure comes around. You don't want to have unfinished business to worry about. If you will be undergoing IV sedation, plan to have a trusted family member or friend drive you home afterward.
If you have younger children, arrange for someone to help you care for them when you are recovering. You don't want to be overwhelmed. Schedule a few days off work so you have plenty of time to take it easy.
Dental implant surgery in Queen Creek is an important decision, so it's worth the effort to do everything you can to ensure it is successful. By communicating with your dentist and implementing the suggestions mentioned above, you are doing right by your oral health!
About the Practice
At Queen Creek Complete Dental, we strive to offer comprehensive services from friendly faces to patients in the East Valley. As a privately owned and operated practice, we can offer one-on-one service from a staff you'll get to know over the long term. If you are interested in dental implants, we utilize digital placement that guarantees a fast and pain-free procedure. Ask about our Complete Dental Implant Special. Schedule a consultation on our website or by calling (480) 722-1200.
Comments Off

on How Do I Prepare for Dental Implant Surgery?
No Comments
No comments yet.
RSS feed for comments on this post.
Sorry, the comment form is closed at this time.