June 3, 2022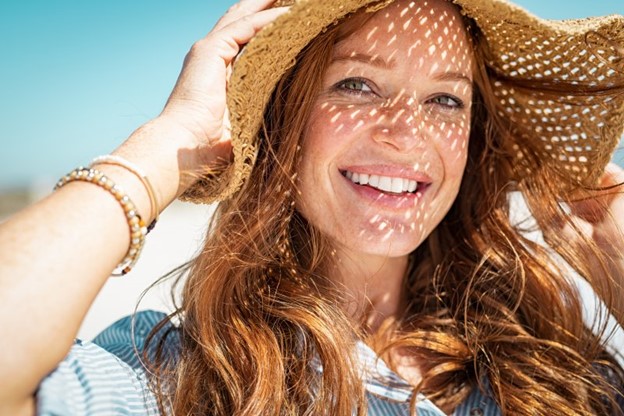 What's on your to-do list this summer? Are you gearing up for a trip to the beach for some fun in the sun? If so, you'll certainly want to look your absolute best! That said, when's the last time you thought about enhancing your smile with cosmetic dentistry? There are many available options that your dentist in Queen Creek can provide, including porcelain veneers, that are certain to have your smile looking its absolute best. Keep reading to learn about five ways that veneers can give you a beach-ready smile this summer.
1. They Cover Stains
In some cases, traditional teeth whitening treatments might not be enough to give your smile the glow that you desire. But veneers are made from a special dental-porcelain that is incredibly resistant to staining. They also nicely match the shade of your natural teeth. Once the veneers are placed on your teeth, they perfectly mask any visible stains or discoloration.
2. They Make Your Teeth Appear Straighter
Since veneers are bonded to the outer surfaces of your teeth, they actually make your teeth appear straighter without physically adjusting or realigning them at all. This is much quicker than going through the traditional orthodontic process and can be completed in a couple of appointments versus wearing braces or aligners for several months.
3. They Close Gaps Between Your Teeth
Sometimes awkward spaces between your teeth can make you feel self-conscious about your smile. Another way that veneers can alter the appearance of your smile is by closing any visible gaps, both restoring its beauty and helping to limit the accumulation of plaque between teeth. Again, this can be done much more quickly than wearing braces or aligners.
4. They Restore Damaged Teeth
In many cases, veneers are sufficient for correcting minor aesthetic damage such as small chips, cracks, or fractures. Although, they do have limitations, and for severely damaged teeth, a more restorative option like a crown is often required.
5. They Create a Symmetrical Smile
You might also have teeth that are larger than others, which can affect the look of your smile as well as its bite pattern. But veneers can make your teeth look uniform and symmetrical, providing you with a healthier and aesthetically pleasing smile for up to 20 years, assuming you take care of them.
Many people these days turn towards porcelain veneers for their versatility, longevity, and impressive results. Talk with your dentist if you're interested in getting veneers; they're certain to have your smile looking its absolute best throughout your summer adventures.
About the Practice
Queen Creek Complete Dental proudly serves patients and families in the Queen Creek area under the leadership of Dr. Reza Jafari and Dr. Sierra Ferreira! Both Dr. Jafari and Dr. Ferreira have several years of experience and expertise in a wide range of fields and their practice is pleased to offer many available services, including porcelain veneers! If you have any questions about the article or would like to schedule a visit, feel free to contact the practice online or by phone at (480) 722-1200.
Comments Off

on Porcelain Veneers: The Secret to a Beach-Ready Smile
No Comments
No comments yet.
RSS feed for comments on this post.
Sorry, the comment form is closed at this time.