July 14, 2022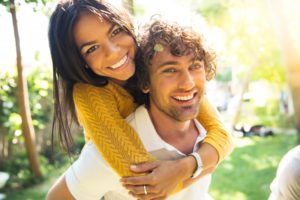 Now that summer is in full swing and COVID-19 vaccines are becoming more widely available, more and more people are spending their days outside. You probably already know that outdoor activities like jogging, swimming, and playing sports are great choices for keeping you healthy. However, did you know that getting outside and enjoying the sun can also improve your oral health? Read on as your Queen Creek dentist explains how spending time outside can keep your smile feeling its best.
Shining Some Light On Your Sunny Smile
Sunlight is warm, beautiful, and the best way for your body to get the vitamin D it needs. This important nutrient plays a number of important roles, including keeping your bones and teeth strong as well as boosting your immune system. Vitamin D even helps with digestion, particularly aiding in the absorbing of calcium, which is key for strong dental enamel.
A little bit of sunlight goes a long way. Studies show that without an adequate supply of vitamin D, people can become more likely to develop problems like:
Cavities and tooth decay
Tooth sensitivity
Periodontal disease
Osteoporosis
Weakened muscles
Enjoy Your Time In The Sun!
So just how much time should you be spending outside to get enough vitamin D? Well, the amount of sunlight you need depends on how much melanin you have in your skin. Melanin protects you from overexposure from the sun's rays, which can make it more difficult for your body to absorb vitamin D from those rays. As a result, the less melanin you have in your skin, the less time you need to spend in the sunlight to get the nutrients you need.
For example, Caucasians and those with very light-colored skin may only need to spend 10-30 minutes in direct sunlight a few times a week to get the vitamin D they need from the sun. However, people with darker complexions will need to spend more time enjoying the sunlight to fully absorb the needed vitamin D, perhaps around 30 minutes to an hour or more.
Other Places to Find Vitamin D
While enjoying some sunlight is the best way to get vitamin D, there are other places to find this important vitamin. It's important to make the most of these other sources when you can't find the time to go outside or if the weather conditions are not ideal. Some of the best foods to eat that have vitamin D are:
Fatty fish
Eggs
Cheese
Yogurt
Milk
Not sure if you're getting enough vitamin D? Ask your doctor or dentist! They may recommend taking a multivitamin or a nutritional supplement. This way, you can be sure that you're getting all the vitamins you need to keep you and your smile healthy!
About the Practice
At Queen Creek Complete Dental, we have been proudly providing personalized and high-quality dental care since 2005. We offer specialized treatments for the whole family all under one roof, and we use the latest dental technology and techniques to ensure every visit is as pleasant as possible. To learn more about your oral health, we encourage you to reach out to us online or at (480) 722-1200.
Comments Off

on Is Going Outside Good for Your Smile?
No Comments
No comments yet.
RSS feed for comments on this post.
Sorry, the comment form is closed at this time.