November 14, 2022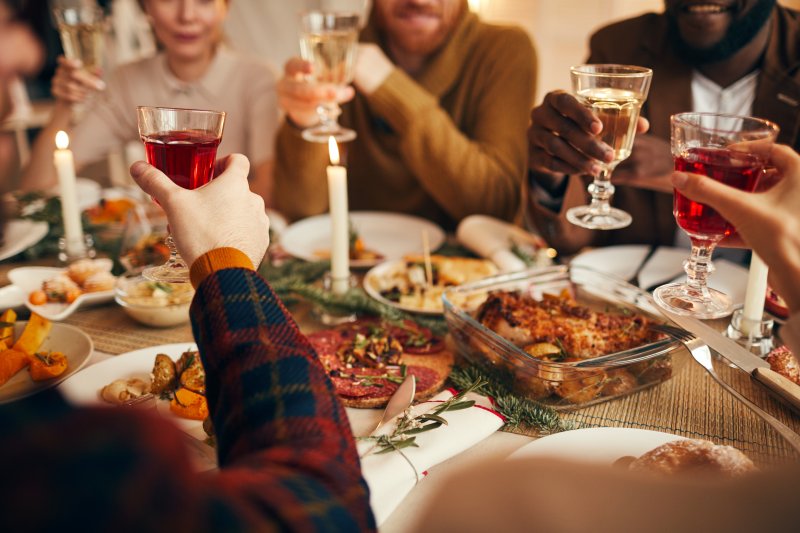 With all the sparkling lights and festive music around the neighborhood, you know it's the holiday season. Other than traveling and spending time with loved ones, one of the best parts of the festivities is chowing down on all your favorite meals. While this is an enjoyable time for your taste buds, some treats can take a toll on your pearly whites. Read on to learn about several holiday foods you should be careful with to protect your smile!
6 Holiday Foods to Be Cautious About This Season
Although there are plenty of mouth-watering treats to munch on during the holiday season, many of them are also not very tooth-friendly. Some of them can potentially damage your smile, resulting in chipped or cracked teeth. Others can increase your risk of developing cavities. Here are several foods you'll want to avoid during the festivities:
Hard treats, such as raw nuts
Dried fruits, like raisins
Candy canes
Sticky snacks, like taffy and caramel
Sugary pastries
Eggnog
Smile-Friendly Meals to Enjoy Instead
While some foods should be considered "off-limits" to protect your smile, it doesn't mean you have to hold off on other tasty meals. Here are a few alternatives you can enjoy that are friendlier and healthier for your teeth:
Mashed potatoes
Fresh fruits
Cooked veggies
Lean protein, such as turkey
Leafy greens/salads
Soft dinner rolls
Green bean casserole (without the raw nuts)
Red wine (with a straw and in moderation)
Pumpkin pie
Ways to Maintain Good Oral Health During the Holidays
Picking the right foods for your oral health is only the first step to preserving your pearly whites during the holiday season. You'll also want to prioritize solid oral hygiene, which should include brushing twice a day, flossing daily, and rinsing with mouthwash regularly. Next, you should refrain from grazing throughout your day, as this can increase your risk of forming cavities from extended exposure to sugar and food particles. Most importantly, be sure to schedule routine dental checkups and cleanings with your dentist every six months. This will allow them to monitor your oral health and address any growing concerns that they might detect.
The holidays should be spent with family and friends, not for an emergency dental visit. Keep these few tips in mind, and you'll be able to fully enjoy a strong and healthy smile during this season and beyond!
About the Author
Dr. Reza Jafari earned his dental degree from the Boston University School of Dental Medicine. He also regularly seeks continuing education to expand his skills and expertise so that his patients receive the best care they deserve. He provides a wide range of high-quality services, including dental checkups/cleanings, fluoride treatments, and tooth-colored fillings. If you'd like to schedule an appointment, visit his website or call him at 480-722-1200.
Comments Off

on 6 Foods to Protect Your Teeth From This Holiday Season
No Comments
No comments yet.
RSS feed for comments on this post.
Sorry, the comment form is closed at this time.