March 3, 2023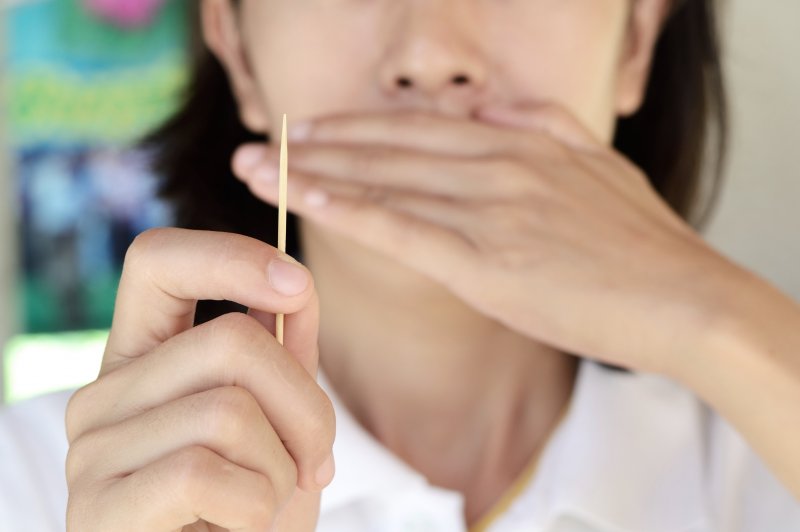 As any dentist will tell you, breaking up the plaque deposits between your teeth is vitally important to your overall oral health. That being the case, you may think that carrying around a toothpick is a good way to keep your teeth and gums in good condition.
However, the fact is that toothpicks are unfortunately more likely to do harm than good. If you want to know why that is, here's how a toothpick could potentially cause a dental emergency, and what you can use instead.
What Harm Can a Toothpick Do?
Toothpicks may seem like a convenient way to keep your teeth clean, but the fact is that they do a lot of damage if you aren't careful. For example:
Breaking: Most toothpicks are pretty cheaply made, meaning that they can potentially break and get stuck in your gums. This could even be bad enough to send you to the dentist's office.
Laceration: If you slip while using a toothpick, you could cut or stab yourself. The damage can range from mild to severe but isn't much fun in either case.
Infections: Most people don't sterilize their toothpicks before they use them, which means that bacteria can pass from the toothpick to your gums. If you do wind up accidentally cutting yourself, this can make the problem even worse.
What Should I Use Instead?
While a toothpick isn't the best idea, wanting to clean your teeth after a meal is a good instinct; you just have to do it in the right way. The best thing to do, as you might guess, is dental floss. It's convenient enough to carry with you and can be used easily on the go. Though, it's fair to say that you'll get more looks whipping out dental floss than you will with a toothpick.
With that in mind, you might prefer to use an interdental brush. These are small cleaners that are designed to slot between your teeth, almost like a toothpick. However, these tend to be made of a much more durable material than toothpicks are, and can give you a much deeper clean.
Keep this in mind, and you can avoid a trip to the emergency dentist. And when you do see them for a regular checkup, you can still impress them with how clean your teeth are.
About Our Practice
At Queen Creek Complete Dental, we have everything you need to keep your family smiling. We have an experienced dental team capable of offering you comprehensive dental care, including everything from checkups to state-of-the-art dental implants. We're happy to welcome patients of all ages, and with all kinds of oral health problems, and give them the care they deserve.
If you have any questions about how to take care of your teeth safely & effectively, we can be reached at our website or by phone at (480) 722-1200.
Comments Off

on What Harm Can a Toothpick Do?
No Comments
No comments yet.
RSS feed for comments on this post.
Sorry, the comment form is closed at this time.