October 7, 2019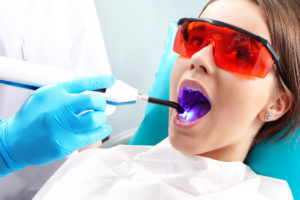 Just like telephones are now mini-computers in our pockets and self-driving cars are being tested on the roadways, advances in technology are transforming modern dentistry. Indeed, dentists are increasingly utilizing lasers, new imaging equipment and cutting edge dental techniques to deliver quality oral care faster and more effectively. Here is a quick look at how a dentist in Gilbert can harness technological advances to improve your oral health.
Lasers Deliver Fast Results with No Discomfort
Needles and drills are quickly becoming dental tools of the past! In their place: new laser technology that can perform dental procedures faster without causing any discomfort.
Specifically, the Solea dental laser – the first CO2 dental laser system approved by the Food and Drug Administration (FDA) for hard and soft tissue procedures – can eliminate harmful bacteria from the gums, perform cosmetic gum lifts and prepare teeth for filling a cavity.
Not only does Solea laser technology allow dentists to complete these and other procedures faster – saving you precious time! – but the instrument itself is so gentle that most patients do not need anesthesia.
Replace Missing Teeth with Modern Dental Implants
Roughly 4,000 years ago, carved bamboo pegs were used in China as rudimentary dental implants. Fortunately, implant treatment has advanced considerably since that time! Today, dental implants are considered the most effective and reliable solution to replace missing teeth. Indeed, according to the American Academy of Oral and Maxillofacial Surgeons, modern dental implants enjoy a 95% success rate.
Successful implant treatment begins when a qualified dentist or oral surgeon inserts a small titanium post into the jawbone beneath the gums. Over the course of several months, this titanium post fuses with the surrounding bone to become an artificial tooth root. Once the healing process is complete, an abutment is placed on top of the implant. A new artificial tooth is then attached securely to the abutment, restoring the patient's smile and dental function.
Dental implants are the only tooth replacement solution that restores both the visible tooth and the tooth root structure. Not only do implants appear more natural than removable dentures or bridges, but they offer superior chewing support, meaning patients can eat all of their favorite foods without worry. Moreover, with proper care, dental implants can last for decades!
CT/Cone Beam Scanner Enables Precision Treatment
A CT/cone beam scanner allows dentists to generate advanced, three dimensional (3-D) images that provide valuable information about a patient's dental structures prior to beginning an extensive treatment like dental implants.
The scanning technology works by moving an X-ray beam in the shape of a cone around specific points of the head, jaw and mouth. In just seconds, the CT/cone beam scanner produces a multitude of detailed images from various angles that are then combined into one. The 3-D images not only reveal the shape of a patient's teeth and jawbone, but also the location of important blood vessels and sensitive nerves.
This valuable information can be used by a dentist to plan an implant procedure with extreme precision, maximizing the likelihood of success and ensuring a swift recovery.
Not all dental practices are created equal. Choose a dentist that offers cutting-edge technology to receive faster, more comfortable dental treatment.
About the Author
Dr. Reza Jafari has over a decade of experience providing quality oral care to families in the East Valley. He utilizes state-of-the-art equipment, including a CT/cone beam scanner, at his private dental office near Gilbert to maximize patient comfort and deliver faster, more effective treatments. Patients new and old can contact Dr. Jafari by visiting the Queen Creek Complete Dental website or calling 480-722-1200.
Comments Off

on How Do Lasers Enhance Your Dental Care? Find Out Here
No Comments
No comments yet.
RSS feed for comments on this post.
Sorry, the comment form is closed at this time.